I recommend all of Pirotta's books. He is a brilliant storyteller that will mesmerise your children and you! - Bibo, reader, on amazon.com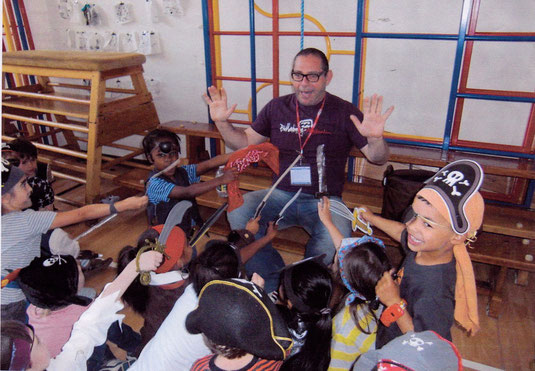 I have over thirty years' experience visiting schools, libraries, museums and festivals where I do a mixture of storytelling, writing workshops and reading from my books and stories. So if you want to take your children's writing to another level or want to boost their engagement with reading, choose one of the sessions below or else hit the contact button and we can discuss sessions tailor-made to meet your school requirements. 
In schools, I usually get booked either through Authors Abroad or Authors Aloud, both agencies with a wealth of experience in organising school visits, seminars and entire book weeks. If your school is in Yorkshire or anywhere in the North, you can book me through your SLS or directly.
I also visit bookshops for promotional purposes and perform at Literature Festivals.  Some of my recent festival appearances include The East Riding Festival of Words, the Bradford Literature Festival, the Linton Book Festival and the Edinburgh Book Festival. Please get in touch with my publishers, Bloomsbury and Orchard Books, for details or directly via the contact page on this site.  
Here are the the details of some booking agents I work closely with if you want to go through an agent:
---
These are the sessions I do in schools. Please note that you can mix and match the sessions as you like, so I can do a mixture of storytelling, reading and writing workshops in the one session.
WRITING WORKSHOPS  AND STORYTELLING [for Years 1 up to 9]
My most popular workshop: THE FIVE STEP STORY LADDER
A workshop that breaks down plotting into a manageable process. Learn how to plot a story in five easy steps in my famous session that has been adopted by schools up and down the country.   It has even won schools writing competitions here and abroad. Choose a main character, put him to the test and discover how to find the perfect ending to any narrative.  If we have time we'll explpore how to write action scenes and character descriptions. The stories could include any topic the children are working on.
NEW FOR AUTUMN 2018 AND SPRING 2019
ZERO TO HERO
A special workshop for schools using FIREBIRD in school. Find out how Prince Ivan goes from zero to hero, write a similar story and learn how to use your own life experience to construct plot and give your characters depth.  Click here for more info.

Other workshops
WE ARE LEGEND
Learn how to write your own myth and legends using the classics as inspiration.  Discover why heroes like Jason and Theseus still enthral readers to this very day and write a superhero story that puts you at the heart of the narrative.
WOULD YOU SURVIVE THE STONE AGE?
Doing the stone age this half-term? I can help your children write their own stories with a stone or bronze age team, as well as tell them stories about or inspired by the period. 
NEW FOR AUTUMN 2018  WOULD YOU DARE CLIMB UP THE BEANSTALK?
Folktales use popular themes and tropes that help give a story a tried-and-tested structure.  In these sessions I get children to use their own experiences to write a folktale style story featuring themselves. 
STORYTELLING [nursery to Years 6]
A WORLD FULL OF STORIES [for any age group]
Stories from around the world, including magic, funny and fairytales.  
BOO! [for Upper KS2 only]  Ghost stories to make you shiver.
THE UNICORN PRINCE [nursery, and KS1]
Magic stories designed to appeal to younger kids. At the moment this features my latest picture book with Jane Ray.
HERE'S WHAT SCHOOLS HAVE BEEN SAYING ABOUT MY AUTHOR VISITS:
Thank you! The kids are still buzzing about your visit so thank you for inspiring them so much!
Georgia Drake, East Morton CE Primary School, Keighley (May 2019)
---
Once we had decided to have a whole school themed week based around Greek Mythology, we needed an author who had taken these ancient stories and reinvented them for a young audience. Saviour was that author. The children, from Reception through to Year 6, were thrilled and fascinated by his stories (particularly those about Saviour's grandma). Saviour brought the joy of story telling to life along with some practical advice in generating and planning narratives of our own.  His books are now proving very popular in our school library.  Anthony Glover, Ravenscourt Park Preparatory School  (February 2019)
---
Thank you for a truly inspiring workshop. We were all buzzing with excitement and will remember the day for a long time to come. - Sarah Moore, school librarian, St. Martin's  Ampleforth (June 2018)
---
 It has been a real treat and a pleasure to have you come and work with the children. They have all taken something from today.
Richmond Hill Academy Primary, Leeds. February 2018
---
It's so great that the kids know who you are and teachers are excited to have you in too. Everyone really enjoyed Thursday so just wanted to say thank you. 
Meadowfield Primary, Leeds. February 2018
---
"Just wanted to say a MASSIVE thank you for your visit on Thursday! Year 5 and 6 loved talking to you, and the feedback from parents and children at the after-school storytelling was also superb. We don't often invite parents to our author events, so it's great to build those links."
Jonathan Bentham, Rufford Park Primary, Yeadon. April 2017 
---
Thank you again for the marvellous day . The children and staff were really enthused .
Kate Isaacs, St Margaret Clitherow Catholic Primary School, February 2016

---
I just wanted to say a huge thank you from everybody at school today. We have all had a great day and the children were really buzzing after meeting and working with you.
Lauren Scott, Wellington Primary, January 2015
---
The children were completely spellbound by your unique ability to capture and sustain their imaginations. I'm sure we will be working with you again soon.
Jennie Williams, Greave Primary School, Stockport, September 2014
---
I am writing to warn you that there are a number of letters on their merry way to you.  Year Three absolutely loved your visit here at Kelvin Grove, and we have talked about it almost every day since.
Alice Green, Kelvin Grove Primary, London. January 2013
---
By far the best author student interaction i have viewed.  Your presentations were spellbinding!
- Kerry Heywood, Holbeach Primary, London, July 2012
---
The children are still talking about your visit. Our school library is lending out all your books much more often and we have been asked when you will be coming again.  Thanks so much for an amazing day.
- Tracey Bentley, Christ Church School, Skipton June 2012
---
Dear Saviour, Thank you so much for coming to our school! The staff and children couldn't stop singing your praises and were so impressed with you. I am glad you had a good day and appreciate all the input you gave in encouraging our pupils to read and write. Once again thank you and take care! 
- Rebecca Hubbard, literary co-ordinator, Southville Primary, Feltham. March 2012
---
Thank you so much for a wonderful day. The children and staff thoroughly enjoyed listening to you and your amazing recount of Billy's Magic Tail.   
The workshops were very informative and pitched at exactly the right level for the junior classes. I know they learnt a lot and enjoyed the learning experience at the same time.   We very much hope that you will be able to visit our school again in the future.
- Mrs C. Kissinger, acting Headteacher, St Mary's Catholic Primary, Isleworth. March 2011
---
We loved it! There's a real buzz here after your visit! Please come again!
    - Sharon Pierson, GROVE PARK JUNIOR SCHOOL, London
    March 2011